Hi HP,
No worries. Yes, we've been adding a lot of RGBs and other channel combination formulas/derived products to McIDAS-V. Documentation on many of the AHI and VIIRS RGBs seems to be pretty scarce without anything deemed to be that official. I did just find a couple EUMeTrain recipes for VIIRS RGBs. One of them is the
True Color RGB
. I noticed that this recipe says that you should scale the M5, M4, M3 reflectances between 0 and 110%. I'm working on updating that function right now. The recipe also says to use a piecewise linear stretch, which I'm investigating, but I don't believe there's an easy way to apply that. The gamma of 3 does give a pretty nice image though. In the image below, the left panel is the VIIRS True Color RGB formula included in the nightly, on the right is the output if you do the rescaling and gamma correction:
Attachment:
File comment: Left=current function
Right=rescaled with gamma 3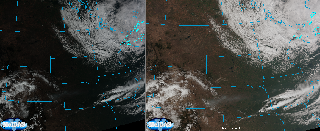 tru_col_svm.png [ 1.17 MiB | Viewed 40 times ]
This is without modifying the common gamma value in the Layer Controls. We'll have to discuss if applying this gamma to the function is appropriate to do or not.
As for the SVI natural color RGB, this could definitely be added. Do you know if this is documented anywhere? I see the bands to use (Red=I3, Grn=I2, Blu=I1), but I'm not sure if any rescaling or gamma corrections are involved. Just as an FYI, the "VIIRS Day Land Cloud Fire RGB" formula uses I bands (I1, I2, and I4), but the function applies rescaling and a gamma correction to the red (I4) band, so it can't be used generically like the original VIIRS_M_RGB function from McV 1.8 was.
If you notice any other RGBs that are missing from any other satellite/instrument, please let me know that as well.
Thanks,
Bob