Thanks for your replies Barry and Ghansham.
A sample GeoTIFF file containing channel 4 of an AHRPT image transformed to a Stereographic projection can be downloaded from here:
ftp://ftp.dartcom.co.uk/pub/geotiff/DartcomGeoTIFF.tif
And this is what it looks like when loaded into Global Mapper:
Attachment:
File comment: DartcomGeoTIFF.tif loaded into Global Mapper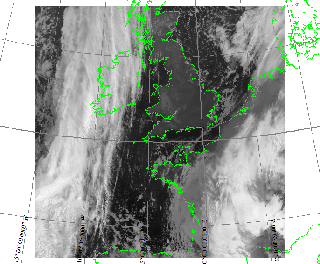 DartcomGeoTIFFPreview.png [ 302.57 KiB | Viewed 146 times ]
I've also uploaded the following files to the pub/incoming folder on ftp.ssec.wisc.edu:
DartcomGeoTIFF.tif
MODSHARPTCOLOR_roi1_18302105308.tif
The second file is a BlueMarble MODIS image generated by the NASA DRL IPOPP software using the Stereographic projection.
Regarding the NCJ GeoTIFF IOSP, I'm not clear how I could add this to McIDAS-V - any pointers Ghansham?
Best Regards,
Chris